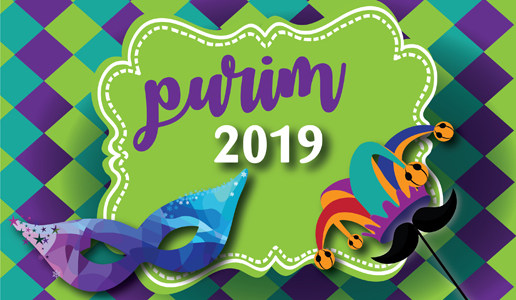 ---
The festival of Purim commemorates the salvation of the Jewish people in ancient Persia from Haman's plot "to destroy, kill and annihilate all the Jews, young and old, infants and women, in a single day." It is celebrated with Megillah readings, gifts of food, charity, feasting and merriment. Purim begins at sundown on March 20 through March 21.
March 17
Purim Extravaganza & Carnival at Temple Emanu-El, 225 N. Country Club Road, Tucson from 10 am-noon. Features carnival games, cake walk, face painting, crown making, activities and more. $ For more information, visit tetucson.org.
Purimon Celebration at Pardes Jewish Day School, 12753 N. Scottsdale Road, Scottsdale from 4 to 7 pm. Features a costume contest, kosher Israeli food and games. Please bring a mishloach manot for an auction to benefit Shevet Shemesh. Purchase tickets in advance at eventbrite.com/e/purimon-tickets
March 20
Purim Pandemonium at Congregation Anshei Israel, 5550 E. Fifth St., Tucson from 5-8:30 pm. Free fun, free food, free drinks… everyone is invited to come dressed in costume for this festive occasion. This year's theme: Dr. Suess. Free admission with one can of food per person to benefit the Community Food Bank. For more information, visit caiaz.org.
Mordechai in Mexico Purim Fiesta at Congregation Beth Tefillah, 6529 E. Shea Blvd., Scottsdale at 7 pm. Enjoy a Megillah reading, games, costume contest and dinner. $12-18 adults, $7 children. For more information, visit bethtefillahaz.org.
March 21
Purim Experience at East Valley Jewish Community Center, 908 N. Alma School Road, Chandler at 9 am. Purim class, Megillah reading and class, performance by The ImproVables and lunch. $14. For more information, visit evjcc.org.
Purim in Paris at Chabad Edleman Jewish Center, 16830 E. Avenue of the Founatins, Fountain Hills at 5 pm. Celebrate Purim with a Parisian flair. For more information, visit jewishfountainhills.com.
Wild Western-Style Purim at Chabad of Scottsdale, 10215 N. Scottsdale Road, Scottsdale at 5 pm. Entertainment, live music, raffle, masquerade in Western attire,, Megillah reading and dinner. $25 adults, $15 children. For more information, visit chabadofscottsdale.org.
March 24
Community-wide Purim Carnival at the Ina Levine Jewish Community Campus, 12701 N. Scottsdale Road, Scottsdale from 11 am-3 pm. A family friendly day of fun with carnival rides, bouncies, games, face painting, Teen Zone, Beer Garden, local performances and more! Presented by Flader Wealth Consulting Group-RBC Wealth Management. Everyone welcome! Admission is free. For information, VIP options and discounts on rides and attractions, visit vosjcc.org/purim2019.
Purim Carnival at Temple Emanuel of Tempe, 5801 S. Rural Road, Tempe from 11:30 am-1 pm. Carnival games, petting zoo, face painting, Klezmer band, costume contests and more. Free admission; fee for activities. For more information, visit emanueloftempe.org.

---
---