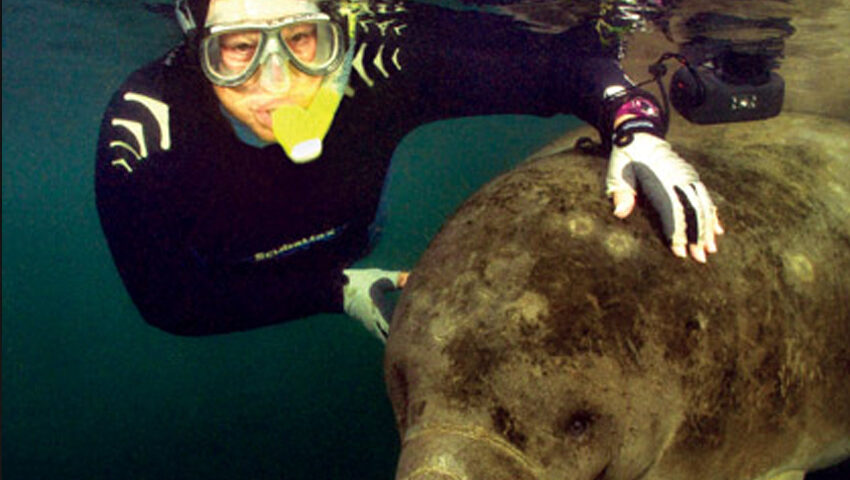 ---
West Indian manatees surround me. They wait as I step down the pontoon boat's sturdy ladder and glide quietly into the water. I could do a belly flop and not scare them away. One, the size of a large couch, nudges me from the left – another lifts me from below and a third swishes his whiskers along the right side of my face. Behind them, others are waiting their turn to get close to me. What is attracting them to me, a human snorkeler? Obviously, they are curious about what I am doing in their chilly water.
A bulbous male, his face covered with warts from a condition known as cold (water) stress, nudges me. I gently pet him, reveling in the moment. We are in an area of Florida that is the only place where interaction with manatees is permitted.
The dive shop was emphatic that we follow established rules: no chasing, no diving below the surface to reach them, "do not disturb" them while they are sleeping, no riding and absolutely no touching below their bellies, "where their girl and boy parts are." This especially applies to males, who might become amorous.
The manatees' small eyes, relative to their walrus-sized physiques (as large as 13 feet in length and weighing as much as 3,500 pounds) and puckered cupid-like lips, begged to be cuddled. Some roll over hoping for a scratch. It's an incredible experience to be body-to-body with these amazing endangered mammals.
The 54-degree water temperature in the Gulf of Mexico last January had sent the manatees scurrying into the 72-degree fresh water springs of Florida's Citrus County towns of Homosassa and Crystal River. Here, aquifers feed into the two rivers, maintaining a constant year-round temperature. The abundance of manatees, whose movements churn the water, reduced visibility to 15 feet or less. But when a manatee is next to you, the only thing you don't see is other divers.
Cold weather and cold water discourage casual snorkelers. More is not merrier, especially when operators welcome anyone over the age of 3 who will pay their price. When the gulf is cold, sightings in these rivers and springs are pretty much guaranteed. In warmer weather, manatee sightings can be few and far between, and sometimes there are none.
Crystal River, the better-known manatee habitat, has more operators (about 26) than the more southerly (17 miles away) Homosassa River (which is only open November-March). Fortunately, there was real action among the hundreds of manatees in the Homosassa River during our visit. From our pontoon boat, I observed several matings. "Watch out for the sex orgy over there," Captain Laura warned my buddies. During their sexual state of arousal, they can unintentionally whack a snorkeler. We observed a mother nursing her pup, a mottled baby that was chewing the rope attached to our ladder. Mom, guarding her infant, waited patiently.
Snorkel With Manatees owner Gene Parker recommended the Homosassa River because it would be less congested. I booked two days, including the three-hour morning trips and the afternoon ones, as well. When I shared my upcoming adventure plans with some of my longtime diving buddies, I got three responses of "We're there!" and one "Maybe." I called Gene again to ask if we could charter the boat for two days. No problem. It would be $400 for six hours daily, "whatever time you want it." I jumped at it, without realizing the probability of hypothermia when spending six hours in the cold water.
The families of Gene and his two captains, Erica and Laura, have lived in Citrus County for five or six generations During our 25-minute motor from the Plantation Dive Shop dock to Homosassa Springs, Laura shared more about these fascinating mammals.
She told us that those covered with green algae had just arrived in the river from the gulf. While manatees mate year round, females give birth every four to five years after a 14-month gestation period. Grass feeders, manatees surface to breathe every three to five minutes, perhaps every 15 minutes when they are sleeping. They'll eat water hyacinths and small fish and shrimp when available. Lacking predators, they have no fear of humans. Few, if any, have unscarred bodies. Thanks to boat engine propellers, their backs are a road map of scars. I saw one manatee with a chunk of missing flesh as yet unhealed.
Manatees are inclined to be more active in the morning, which is when most snorkelers take their three-hour tours. Apparently they enjoy afternoon siestas. Like all wildlife, they need to be respected. Don't get between a mother and her calf. Manatees are known to "blow snot" from their nostrils when surfacing. That can be nasty if you end up as a target.
For many people, one day of snorkeling might be enough. For me two was perfect, topped off by the incredible bird life along the way: frigates, herons, cormorants, white pelicans, blue heron, wood storks, egrets, anhingas, fish crows that "kee" rather than caw, eagles and osprey. Great fishermen, it is not uncommon to see an osprey flying low with a fish in its talons. They fly low so the bald eagle, a less adept angler, can't steal the caught prey.
Captain Laura aptly describes it as, "Disneyland in the water."
If you go:
Homosassa and Crystal Rivers are about 60 miles from Tampa and 90 miles from Orlando.
Dive shops provide three-mm wetsuits. My preference is five mm and using my own mask, snorkel and fins.
Florida Fish and Wildlife has the authority to shut down Crystal River snorkeling operations when there are too many boaters or too many manatees.
There are plenty of other activities: eco-tours, sport fishing, kayaking, birding, dolphin trips, scalloping, which is seasonal, boat rentals and a tour of David Levy Yullee's 5,100-acre sugar mill, the site of Florida's only Civil War action.
Story by Mary Levy Peachin; photos by Dave Jaskey

---
---