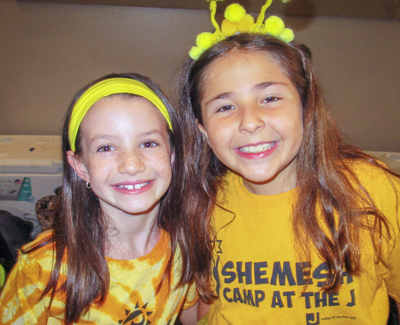 ---
Pictured above: Emery Kutz and Elian Guakil are all smiles and looking forward to Shemesh Winter Break Camp, Dec. 24-Jan. 4, at the Valley of the Sun JCC, where there's a new adventure everyday.
The Valley of the Sun JCC Shemesh Camps offers students grades K-8 winter break fun Dec. 24-Jan. 4.
Grades K-4 celebrate Heroes All Around Us and have lots of fun learning about and receiving visits from everyday heroes such as firefighters and police officers. Other camp activities include games, cooking, crafts, sports and swimming in the heated pool. There is also a weekly field trip to Cracker Jax and Wildlife World Zoo.
New this break, grades 5-8 are on-the-go with daily trips to amazing places like Gravity Zone, Pump It Up, Sky Zone and more.
"No matter their age, our campers enjoy have a blast, whether it's our K-4's with super and everyday heroes or our 5-8 graders defying gravity, taking a selfie with a giraffe or bowling the perfect game," said Jessica Pineda, camp director. "There's something for everyone at The J."
Shemesh Camps at The J is fully licensed and is one of the few camps in the area accredited by the American Camp Association.
Hours are from 9 a.m. to 3 p.m. with extended AM and PM care available.
All are welcome, regardless of faith, background or ability.
For more information and to register, visit vosjcc.org/shemeshcamps.

---
---