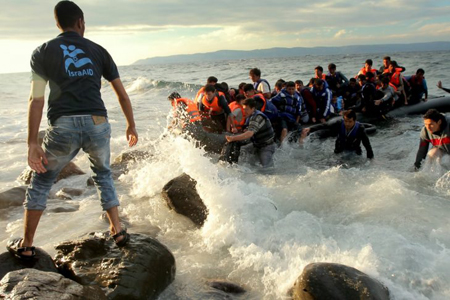 ---
Pictured above: An IsraAID volunteer helps Syrian refugees come ashore on the island of Lesbos, Greece. Photo courtesy of IsraAid

Rachel Wallace will present "Humanitarian Heroes Around the World" at the Weintraub Israel Center's Gertrude and Fred Rosen Memorial Lecture on March 11. The free lecture launches a month-long photo exhibit, "Stories of Courage and Resilience," at the Tucson Jewish Community Center.
Wallace is the outreach and engagement director for The Israel Forum for International Humanitarian Aid (IsraAID), a non-governmental organization that responds to emergencies worldwide with targeted help. The rescue organization works in emergency and long-term development in 47 countries. Wallace will discuss the ways Israeli know-how makes IsraAID successful.
"IsraAID responds to disasters and crises around the world," says Jennifer Selco, the J's Jewish Life and Learning director. "Rarely, if ever, do we hear the stories or see photos of these missions."
The J will host the lecture in partnership with the WIC, a program of the J and the Jewish Federation of Southern Arizona.  Sidney M. Rosen and Frances Knowles established the annual Rosen Memorial Lecture in tribute to their parents' involvement in and devotion to their community.
The lecture is Monday, March 11 at 5:30 p.m. at the Tucson J, 3800 E River Road.  Hors d'oeuvres will be served. RSVP is required at israelcenter@jfsa.org. The photo exhibit runs March 10-29.

---
---