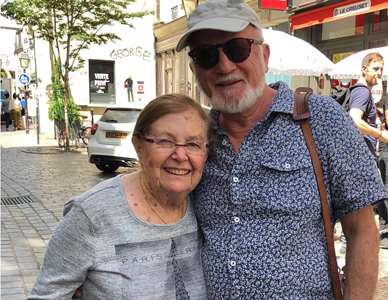 ---
Pictured above: Charlotte Adelman with Alain Quatreville.
On July 7, Charlotte Adelman set out on a remarkable journey to Paris, France to be reunited with the son of the family that hid her during the Holocaust (for more on that story click here). She traveled with members of her family including her daughter and son-in-law, Roz and Seth Goldberg and grandsons, Jeremy and Jacob Goldberg. Her brother, Max, who lives in Paris, so met them there.
Jeremy works as a design manager for Facebook and had shared the story about the reunion with his coworkers, so Facebook sent a crew along with them to shoot video during the trip.
Charlotte was concerned how she would recognize the boy that helped hide her from the Germans more than 70 years earlier. Roz came up with the idea that the reunion should take place at the Shoah Memorial (Memorial de la Shoah) in Paris.
When Charlotte and her entourage arrived at the memorial, Alain Quatreville was waiting for her on a bench. "When I first saw him, in France you don't attach yourself right away when you don't know a person, so I was a little bit distant with him," says Charlotte.  "He said, 'No, no we are family,'" and the two embraced.
Then they lit a candle together at the sight of where Charlotte's mother's name is on the wall at the memorial. "It was really something special," she recalls.
Alain explained that his sister, Ginette, who cooked and cared for Charlotte while she was in hiding, was paralyzed and bedridden but it would mean a lot to him if Charlotte would visit her.
The next day, Roz arranged for a van and driver to take them to the Ardennes, the village where Charlotte was hidden in the basement of the Quatreville home during the war.
When they arrived, there was a large group of people from surrounding villages who had heard she was coming and had traveled to meet her. Michel Piquard was one of those people. His family had owned a bakery, and after the war when bread was being rationed, he would arrange for the Quatrevilles to get extra loaves because he had a crush on Charlotte.
She also met Christine Dollard-Leplomb who wrote a book in 2006, Sauveteurs d'etoiles en Ardennes, about the people hidden in Ardennes during the war. Charlotte's story was in that book.
Charlotte had visited the Quatrevilles one year after the war ended but had not returned since. "I felt very emotional when I saw the house," she remembers. "I was treated like gold. It was like my home; they were like my parents. Not too many survivors can go back to where they were."
She wanted to see the basement of the home but when they approached they were told that the owner was ill and they were not allowed in. Charlotte noticed that the house has been completely renovated, as have most of the buildings in Ardennes.
The one building that has remained untouched was the church across the street from the Quatreville's home. The church stands today as a memorial. If the Nazis found out that someone was helping Jews, they would take their entire family to the church and kill them.
"Most of the people who lived in that village before the war now live in surrounding villages." Says Charlotte. "It was touched too much by the war for many people to stay there. They couldn't take it because of all the atrocities that happened there." Alain resides today in a neighboring village.
Charlotte says that it hurt her to return because, "It reminds me of a lot of things about my mother and my father, but it's a beautiful city. It deserves to be seen."
She was so glad she was able to reconnect with Alain and visit with Ginette. They also celebrated her brother 80th birthday while in France. With Max living in Paris, Charlotte doesn't get to see him too often.
The most cherished souvenir she brought back from the trip was a book that Alain had made more than 70 years ago. In it were photos from when Max and Charlotte had visited that one time after the war.
"Photos of me and my brother and the family," explains Charlotte as she flips through the pages. "The church and home, the Grandmother, father, mother, Alain and friends."
Roz had told her, "Mom, I can't believe that you were in that village." To which Charlotte replied, "I told my kids, when I told you that story, now it was proven."
Charlotte and Alain continue to correspond via Facebook messenger. She admits that now the presentation she gives to various groups throughout the community will have to be redone to include the part about the reunion.
She says that everyone is always telling her that she is amazing and that she is always smiling. "You know what? I survived. If you want to survive, you survive. I say I am smiling because I'm happy that I survived."

---
---