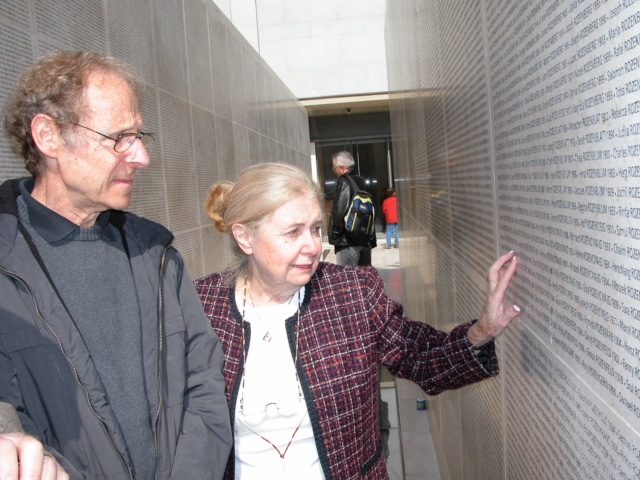 ---
Pictured above: Charlotte with her brother, Max, find their mother's name on the Wall of Names at the Shoah Memorial (Memorial de la Shoah) in France.
Charlotte Adelman says her father, Hershel, had a talent to "foresee things." The one thing he did not foresee was what would happen to his family in Paris in the 1940s.
Hershel was approached by a cousin in 1938 who offered to take him, his wife, Rajzla, and their two children, Charlotte and Max, to the states. Hershel told him, "I came from Poland and I learned French, now I have to go to America and learn English?" He declined the cousin's offer and decided to keep his family in Paris.
In 1940, when Charlotte was 8 years old, the Germans invaded France. When they first started rounding up the men, Hershel went into hiding.
In 1942 a policeman they had befriended tipped them off that the Germans would soon round up the women and children. Charlotte's mother was in contact with her father, and he told her to seek shelter at the church across the street.
Seeking a long-term solution, he learned of a man who would take the family to safety in Vichy, France, in exchange for money and jewelry. The family went to the reported rendezvous point at an orphanage near the Sacré-Coeur Basilica to wait.
But the man gave their information to the Germans who surrounded the orphanage and drove all the parents off in a truck. While they were driving through a narrow street, Hershel thought they could escape by jumping off the truck, but Rajzla was afraid if she got caught, the Germans would kill her.
"My father said, 'We live one time in life,' " says Charlotte. "Luckily he escaped, but my poor mother got taken to Auschwitz." A year after the war ended, the family received a letter that Rajzla had died at Auschwitz in January 1943.
Charlotte remained at the orphanage with her brother, Max. One day, a Romanian woman came requesting to adopt a child. She picked Charlotte. At the time she was adopted, Max was in the hospital with scarlet fever.
"When she picked me up, she took me to her apartment near the Eiffel Tower," says Charlotte. "I was a nosy body, so I went to the janitor and she told me, 'You know, Charlotte, I would like to know what happens in that apartment.' When Charlotte asked, "Why?" She replied that all the children that the woman brought into the apartment disappeared.
The janitor's question was answered one day when Charlotte overhead the woman talking to some Germans. Since her first language was Yiddish, she understood when the woman asked, "When are you going to give me the money for her?"
When Charlotte told the janitor, she asked if anyone could come and pick her up. She had her send a telegram to the apartment building where she had lived before and Madame Elazar came to her rescue.
Due to the neglect at the hand of her adopter, Charlotte remembers, "I was so dirty and smelly, it took a few weeks for her to scrub me and brush my hair and get the lice out. She cut my hair and someone made a dress out of fabric scraps."
Years later Charlotte found out how fortunate she was to have been adopted at that time. While she was with the Romanian woman and her brother was in the hospital, the Germans raided the orphanage, killing all 79 children there.
Charlotte stayed with Madame Elazar for a few months until her father arranged for her to stay with the Quatreville family on their farm. Her father had been working for the Germans in exchange for what he thought would be the safe return of her mother. They still had no idea of the atrocities taking place. Also, this working arrangement allowed him to visit Charlotte.
One day, Madame Quatreville learned the Germans were doing another sweep and her father was sure to be picked up. She told him to take Charlotte away because the Germans knew she was staying there.
He found a contact with the underground and made arrangements to leave Charlotte at the edge of the woods where someone would pick her up.
The day they left, they were almost caught. "My father ran with me. We had a German shepherd running after us, so he dropped me in a little hole at the edge of the woods. He had a chance to tell the woman where I was, and he kept running," says Charlotte. "When she came to pick me up, she said, 'Charlotte, I can't keep you because the Germans are going to come here,' so they put me in a wheelbarrow and covered me up and took me back to the Quatrevilles."
The Quatrevilles decided to hide Charlotte in the cellar of a home next to theirs that had been demolished. "They put a mattress, a kerosene lamp, a bucket to make and a little bucket to sponge bathe," she describes of her living arrangement underground for the next nine months.
After staying in the windowless cellar for some time, Charlotte convinced the Quatrevilles to allow her to come up to the house for a night. Ginette, their 18-year-old daughter who was always bringing Charlotte her meals and taking care of her, had her boyfriend, Robert, over.
Charlotte was enjoying her time with the family – until the Germans came to the door. Robert didn't know if they were there for him because he had missed his return time from furlough, or for Charlotte, so he picked her up and was going to jump out the window into the garden when he heard one of the men call out, "Robert!"
He immediately dropped Charlotte and went with the police. They questioned him as to what he had been carrying. He told them a backpack, but they were not satisfied with his response.
"They came back around to the front of the house and I heard them. I slid underneath a bed and made myself flat against the wall," says Charlotte. Four-year-old Alain Quatreville was about to take a bath when the police arrived. "He saw the German go with a bayonet under the bed and he was going to scream my name. Before he could do that, the grandmother put a bar of soap in his mouth."
After the police left, Charlotte crawled out from under the bed. "I knew if I screamed they would kill me and the whole family," she says. "Mr. Quatreville saw me after I came out from under the bed, and I was white as a sheet. He gave me a shot of cognac." From that time on, Charlotte stayed in the cellar.
After the war, Charlotte was reunited with her father and with the help of the Red Cross, her brother Max was found two years later. The family returned to their apartment in Paris.
Charlotte was not content living in France, so she traveled, spending time in Israel and Montreal, Canada. There she met Alex Adelman. They married and moved to the states in 1957. While Charlotte was in hiding, Alex had been storming the beaches at Normandy.
For years, the only person Charlotte talked to about her past was Alex. When he died seven years ago, she decided to start sharing her story. She often gives presentations to local organizations, churches and school children.
One day, Charlotte received an exciting message on Facebook from Alain Quatreville, the little boy from France. He started the message with "Hello, Lolotte," the name that he had called her since he couldn't pronounce Charlotte. He said after she left, he was so traumatized that he named his doll after her.
"My grandson found out my story and shared it on Facebook and people were saying that we should be reunited," says Charlotte. And that is exactly what is going to happen. "Alain is now 78 years old, a professor of math and is married with three children. We are going to be reunited in Paris the second week of July."
Since Charlotte is now 86, and unable to travel alone, she will be accompanied by her daughter, Roz Goldberg, and Roz's husband and two sons. At the request of people from Beth El Congregation and the community, Roz set up a Go Fund Me account (gofundme.com/holocaustreunionparis) to help offset some of the expenses of the trip.
When people ask her how she can recount her story in such detail, Charlotte says, "I go to bed with it and I get up with it. The Germans didn't get me, but they branded me – that story is never going to go away from me."
She also shares the words she ends her presentations with when talking to schoolchildren, "Love your family – you have only one family in a lifetime – respect each other and be positive."
Read the story of the reunion of Charlotte and Alain in France this summer here.

---
---