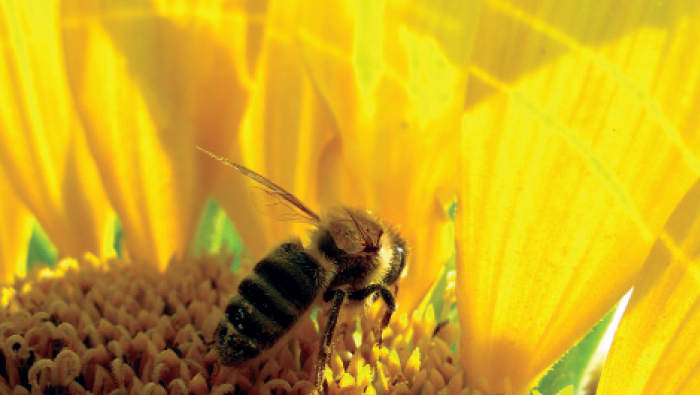 ---
Honey is one of those rare foods that you can indulge in and feel virtuous about at the same time. When we dip apples in honey and recite the blessing for a sweet new year, we also enjoy the healthy benefits of liquid gold.
Honey is reported to be an excellent source of antioxidants and is thought by many to help build up immunities to pollen-based allergies. It's a potent fuel source, gives a great energy boost and can help soothe a sore throat or a persistent cough. Because of its antibacterial and antimicrobial properties honey has been used to heal wounds. And since it attracts and retains moisture, it can be found in many natural moisturizers, creams and salves.
"It's just miraculous stuff. Honey is the only food that lasts forever. They found it in the pyramids, in the tombs in Egypt, 4,000 years old and still good," says Reed Booth, otherwise known as the Killer Bee Guy in Bisbee. "It is the only food that does not lose its vitamin and mineral content. And it is also the only natural food that has all the vitamins and minerals and amino acids and enzymes that you need to live. You could actually live on it. So it's really, literally, a miracle food. And the bees, it's so nice of them to make it for us."
With our abundance of desert wildflowers, Arizona has its fair share of beekeepers and honey aficionados selling locally-sourced honey at farmers markets, roadside stands, local merchants and their own online stores and retail outlets. The most prominent wild honey in Arizona is mesquite, but it is by no means the only option available. Varieties in elevation, location and season lead to a wide spectrum of colors, consistencies and flavors.
Although he started off as a beekeeper in 1988, Booth stopped maintaining his own hives in 1998. He now salvages wild honey from the Africanized bees he is called in to remove from residential, commercial and even border patrol properties. "I literally take the money and the honey," he jokes. In a normal year he harvests over a ton of honey.
"Africanized bees are tough – they're tough as nails and they make twice as much honey. But they defend the hive to the nth degree," says Reed. He describes bee removal as the most dangerous job a person can do. "But I've been doing it for so many years. I was on the front lines when the killer bees first moved to Arizona in '93 and basically learned everything about them that I could. … I know what I'm getting myself into. In my bee suit, I'm Superman. Without it … I'm not going anywhere near them."
From those salvaged hives, Reed makes pure honey in a variety of shades and subtly different flavors. "It depends on what the bees were messing around with, what kinds of flowers." He says that the lighter the honey, the greater the concentration of mesquite. Reed also makes gourmet honey butters and award-winning honey mustards. His honey mustards have won two gold, one silver and seven bronze medals at the World Mustard Competition in Napa County, CA. "I've actually beat the Germans at mustard, so I'm gloating," Reed says, with palpable pride.
You can find Killer Bee Honey at the company's retail stores in Bisbee and Tombstone and at their website killerbeeguy.com.
Dennis Arp, of Mountain Top Honey in Flagstaff, has been raising bees since 1979 initially as a hobby. In 1982 he began bottling and selling honey, starting with 120 hives. He now has 900 hives that he moves four to five times a year to take advantage of different elevations and seasonal flowers around the state. Dennis also drives the bees across the state line into California to pollinate almond groves each February. "The almond growers actually pay a pollination fee because it helps them set more fruit on the trees," he says.
In the spring he moves the bees to the lower desert around Fort McDowell and Black Canyon City, where they make honey from mesquite, cats claw, palo verde, brittle bush and other wild flowers that may be in bloom, depending on the winter rains. Dennis's bees spend the summer near Winslow, Joseph City and Holbrook, moving closer to Flagstaff in the fall. Flowers at their disposal may include sweet clover, golden eye, rabbit brush and others, conditional on early spring rains and monsoons.  They winter in the desert, before returning to California to help out with the almonds.
Overall, Dennis notes that honey production has declined from over 200 pounds of honey per hive 15 year ago to about 40 pounds per hive last year, primarily due to factors beyond any beekeeper's control. "The desert just didn't really produce that much this year," he says. "Some of it is environmental – weather conditions and moisture conditions, which translates into what blooms and what's not blooming. And there are some issues going on with bees. There are different pests and parasites affecting bees, so they don't have the production that they used to have."
Dennis works hard to maintain the health of his European bees and keep them from becoming Africanized. This involves replacing the queen every other year. Although the European bees aren't as hardy as their Africanized cousins, he prefers their temperament. "With some European hives, you can finish working them, walk 50 feet away, take your veil off and sit down and eat your lunch. They can be that gentle," he says.
If you're driving through Flagstaff, you can find Mountain Top Honey at the Flagstaff Farmers Market, Bashas' and Whole Foods Market. It's also available at Bashas' in Payson and Camp Verde, and Whole Foods in Prescott and Sedona. In the Valley, the main outlets are Superstition Ranch Farmers Market in Mesa and Apache Junction, Summers Fruit Barn in Phoenix and a handful of small health food stores.  It's also available through Absolutely Delightful.
"Some people come right here to the house and fill up their own containers. But we don't really have store hours or a store front. It's just right here in the honey house where we extract and bottle," says the 65-year-old beekeeper. He also takes phone orders (928-525-167). "I'll ship $50-$100 worth of honey just based on a phone conversation with an invoice, and hopefully, they send me a check. Not too many people do that anymore, but we still do."
Despite the hard work and unpredictable nature of the job, Dennis says he loves the satisfaction that comes from providing a product that people enjoy. "I've gotten calls on our voice mail, 'Hi. You don't know who I am, but we just bought a jar of your honey and it's the best honey I've ever tasted.' Then they just say thank you and hang up. If you get a call like that it's a little pat on the back."
Like their bees, many beekeepers are too busy making honey to market it themselves. That's where Eleanor Dziuk steps in. She runs Absolutely Delightful, which sells honey and bee-related products from eight Arizona beekeepers. She hawks their wares at farmers markets around the Valley and on her website (absolutelydelightfulazhoney.com). It's all under the Absolutely Delightful brand, but on each jar of honey she lists the beekeeper and where the honey was harvested.
"Right now I have honey from Wickenberg, Gilbert/Queen Creek area, South Mountain, Mesa, Buckeye, Yarnell and Fountain Hills," says Eleanor. "When people come to us they can try all kinds of different honeys from all over the Valley and it's all local and it's all directly from the beekeeper. The honey differs so much from different areas – the color, the taste, the sugar consistency. It varies all over the place."
Eleanor says that one variety in particularly high demand is honey made from camelthorn, a prolific shrub that is identified as a noxious weed (noxious plants are non-native plants with invasive characteristics) by the •  University of Arizona Cooperative Extension. She describes it as whitish in color and very creamy, "almost along the lines of a frosting. It's wonderful honey. People watch for it and ask for it all the time. If you try it you will love it." It should be ready in September, but sells out quickly, so Eleanor recommends checking her website for availability.
Absolutely Delightful also creates their own uniquely flavored honeys by adding essential oils, cayenne pepper, lemon rind and other natural flavorings. For the fall, their seasonal honey will be pumpkin spice.
Eleanor's personal favorite is crystallized honey. "Most of it is smooth and creamy. Some have the little crystals in it. Some people think that crystallized honey is bad, but it's not. Honey in its natural state is crystallized," she says.
Cheri Romanoski, of Cheri's Desert Harvest in Tucson, markets four varieties of locally sourced kosher honey. "We obtain barrels of honey from two local vendors. One places his hives in a field of mesquite trees, which we use for our Mesquite Honey. We also use the mesquite honey as our base and blend prickly pear cactus fruit juice for our Prickly Pear Cactus Honey," says Cheri. "The other vendor obtains his honey from several sources – some hives are placed in a citrus field to yield pure citrus honey for our Orange Blossom Honey product; others are placed in a desert area where the bees gather nectar from a variety of desert plants, which creates our Desert Blossom Honey. Each has its own unique flavor profile."
For more information about Cheri's Desert Harvest, see "Cheri's kosher cactus confections" in the May 2016 issue of Arizona Jewish Life (azjewishlife.com/cheris-kosher-cactus-confections).
Since we've only scraped the tip of the honey comb, you can find more Arizona beekeepers at Baja Arizona Sustainable Agriculture (bajaaz.org/lfd/honey_preserves) and Agrilicious (agrilicious.org/local/honey/arizona/phoenix/farms).

---
---