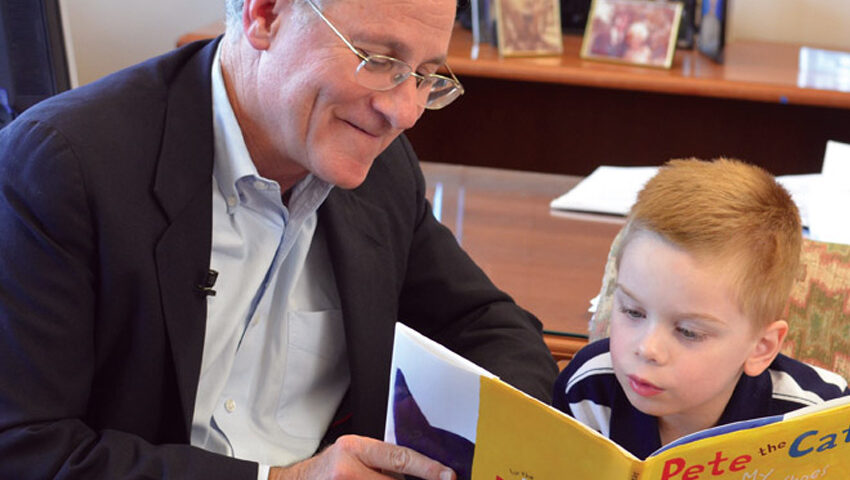 ---
As he begins his fourth year as Tucson mayor, Jonathan Rothschild calls his commitment to social action a central force in his efforts to improve the lives of residents of Arizona's second-largest city.
"Tikkun olam, repair of the world – if you are going to do the kind of work I'm doing now, you have to have that as a core value," says Jonathan, who was born in Tucson in 1955 to Lowell and Anne Rothschild. At that time, the area's population was only about 50,000.
Now with 10 times that number within the city and with more than a million people in the entire valley, Jonathan says Tucson has changed dramatically during his lifetime. When he took office in 2011, he says the city was still reeling from the devastation of the Great Recession that began in 2008.
His efforts to aid the city's economic recovery (as listed on his official website, mayorrothschild.com) include:  "[T]he mayor helped settle the long-standing Rio Nuevo dispute, opening a new era of downtown redevelopment. He codified and increased incentives for Tucson businesses. And, he led efforts to pass a $100 million road improvement bond, the first in the city for many years."
Prior to running for office he spent 30 years practicing law (the last 10 as managing partner of the law firm Mesch, Clark & Rothschild) and was very active in nonprofit organizations. He served as president of both Handmaker Jewish Services for the Aging and Temple Emanu-el (30 years after his father served as president of that Reform congregation). He chaired the Jewish Community Relations Council of the Jewish Federation of Southern Arizona, a post he resigned when he started his election campaign.
"I decided after 2004 that I wanted to do more than have opinions about civic matters," he says of his decision to move into the political realm.
So he located the local Democratic headquarters and started to help other people with their political campaigns, including Gabby Giffords' Congressional campaign.
"I began to respect people who hold office and decided the place I could contribute the most was in my own city," Jonathan says, noting the timing was right because Tucson's three-term mayor had decided not to run again.
His decision to run for office seemed both surprising and appropriate.
His father calls it an interesting turn. "He was an amazing partner in our law firm," says his father, adding "Social justice appears to be part of his vision. … His mother, Anne, and I are very proud of him."
JFSA President and CEO Stuart Mellan marvels: "A guy in the peak of his professional career set that aside to perform public service. I think he did it for all the right reasons – he felt he could give leadership that could help our community."
Stuart has known Jonathan for 19 years and says he has seen his leadership skills in action across the Jewish community. "He really looks at the big picture and is very skillful at helping bring people together," says Stuart. "When he was president of Temple and Handmaker, he was always working to bring institutions and people together. … He listens really well. I could see he was well-equipped to run for office."
Relatively unknown in the general community when he took office, Jonathan sent out a flyer introducing himself to the community and asking people what they would like to see him work on. The more than 4,000 responses fell into four categories: creating jobs, restoring trust in city government, promoting conservation (including harnessing solar power) and rebuilding the local safety net.
While the economy is improving, he says "people would like to see the recovery be stronger and accelerated. He says his primary goal as mayor is "improving the economy of our community." Bringing business and good jobs to the community also provides the tax base to provide needed core services, including restoring the safety net.
In addition to working on those four core areas, Jonathan has also focused on education, which he considers a key component to enhance the community and the lives of people who live here. Jonathan says early literacy and dropout prevention programs are especially important.
"Last year we recruited 600 new literacy volunteers," he says, of a partnership between his office and the Literacy Connects program called Reading Seed. Each volunteer worked with three struggling readers in kindergarten through third grade. "We got 1,500 kids up to grade-level reading."
The Mayor's Summer Reading Challenge encouraged summer reading with certificates and prizes for participating children up to grade 12.
The mayor also believes that "Teach the Parent, Reach the Child" is very effective program in improving literacy. Helping mothers with their literacy skills enables them to help their own children.
As a published poet, Jonathan has perhaps more of an understanding of the importance of literacy than do many politicians. His book The Last Clubhouse Eulogy was published in 2009 by Jacks Press. It includes poems he wrote during a self-described "poetry writing binge" from 2002 to 2009.
Stuart says not many people know that their "tough, no-nonsense" mayor is a poet. "He is a man of many dimensions," says Stuart.
One of the six sections of the book addresses social issues, says Jonathan. And while one of his regrets of being mayor is that he no longer has the focused time he needs to write poetry, he now has plenty of time to focus on social issues.
In his pursuit of social justice, Jonathan sometimes enlists the aid of the JCRC that he chaired before becoming mayor. JCRC Director Brian Davis says the council has worked with the mayor's office on poverty and migrant issues. On April 24, the mayor will moderate a leaders' forum held at the JCC that will focus on poverty issues and solutions.
Last summer when large numbers of asylum seekers from Central America were left at the bus station in Tucson, Brian says the mayor asked the JCRC to take the lead in providing them with services. "We worked closely with Catholic Social Services to provide aid," says Brian.
In turn, Jonathan meets annually with the Jewish Latino Dialogue, a yearlong program for high school students that culminates in a trip to Washington, D.C.
"It's a great group," says Jonathan. "It brings folks from two different backgrounds and cultures together to get to know each other. Then they go to D.C. and meet our Congress people."
The Latino community is another area Jonathan focuses on. "Forty-three percent of the city is Hispanic," he notes. "Some families have been here 300 years, and some families arrived three weeks ago. … We are 60 miles from the border, so there is a long history in our community of being closely tied to Sonora – the state to our south. It's not just a state next to you, it's a relationship. People have family on both sides of the border."
He has participated in a series of mayoral visits to Mexico to help improve relations and foster economic development between Arizona and Mexico.
Now he hopes to create ties with another country with which Tucson has commonalities – Israel.
The mayor will head up a community leadership trip to Israel July 12-20. About 25 business, civic and nonprofit leaders have signed up for the trip.
"Tucson is a desert community and technology is one of our strengths," he says, noting the similarities to Israel. "A lot of things we do here are parallel to what they do in Israel. I hope to make connections we can bring back and work on together."
The trip will also be a personally meaningful experience for Jonathan. Though his wife and three children have all visited the Jewish homeland, he has never been there. He says his wife hasn't been since she was in her late teens, and she is eager to return.
In 1883, Charles Moses Strauss became Tucson's first Jewish mayor. Four of Tucson's last seven mayors were Jewish. To Jonathan, this rich history shows that "This is a very active and politically and socially involved Jewish community."
His own family members are among those active in both the Jewish and general communities. Jonathan's father, Lowell, is a past president and current board member of the Tucson Airport Authority and a member of the Board of Visitors of the University of Arizona College of Law.  He is a past president of Temple Emanu-el and has been very involved with Handmaker Jewish Services for the Aging. In addition, he was a member of the University of Arizona Foundation, the Arizona Board of Medical Examiners and the Jewish Community Foundation. This past year, at the age of 87, he agreed to serve on the board of the Jewish Federation. Anne has been involved with The Assistance League of Tucson.
Jonathan's wife, Karen, served on the University of Arizona Hillel board and is currently involved with the Holocaust History Center of the Jewish History Museum in Tucson. She is the daughter of Holocaust survivors Regina and Sam Spiegel, who were very involved at the U.S. Holocaust Memorial Museum while their health allowed. "My mother had been speaking in the Washington, D.C., area since before the museum, and then my father joined her after he retired," Karen says.
Regina and Sam were selected by the museum to be part of a delegation that attended the opening of a Holocaust museum in Dresden, Germany. Regina also spoke to soldiers at Fort Huachuca as part of a program to increase sensitivity and tolerance.
"My mother's story was so powerful because she stressed how it was small acts of kindness by individuals that helped her survive, and that she did not hold hate in her heart because then she felt that would have given the Nazis a victory," says Karen.
Jonathan and Karen's three adult children all participated on Birthright Israel trips. Isaac and Nathan were also able to accompany Karen's parents on a March of the Living Trip to Poland.
Their older son, Isaac, is an active volunteer in the Tucson community, donating his time and talent to Wills for Heroes, where he prepares wills for Tucson firefighters and police officers. He serves on the board of Arts of All, whose programs are designed to provide a quality art focus for children, youth and adults with and without disabilities. He is also on the board of the Tucson JCC and is involved in the young men's group of the Jewish federation.
Son Nathan recently graduated from law school and returned to Tucson to practice law. Nathan is also involved in a community leadership group in Tucson.
Daughter Molly is currently in Washington, D.C., working on social justice issues with Avodah: the Jewish Service Corps.
Says proud patriarch Lowell, "We are part of the fabric of this community."
Jonathan himself plans to continue to uphold the family tradition of social action and tikkun olam. He recently announced he will run for re-election as Tucson's mayor in November 2015.

---
---