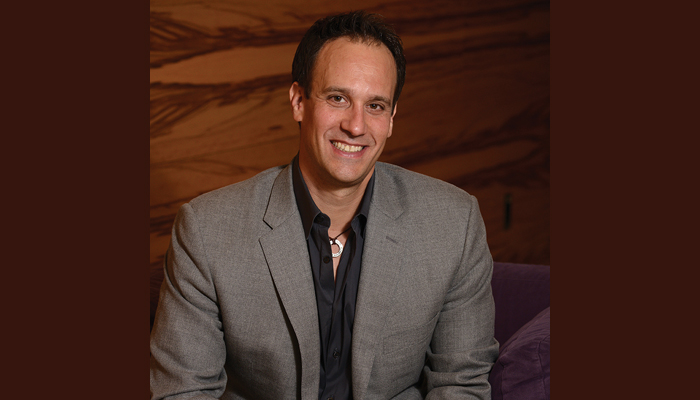 ---
With the new year approaching, many of us make New Year's resolutions similar to last year's: to lose weight, to spend less and save more, to make the most of every day. Michael Bernoff, founder of the Human Communications Institute, recommends a different approach. Instead of setting specific goals, he suggests you ask yourself honestly: "Am I living the life I really want to? Is my life working the way I want it to?" And if it's not, "Am I willing to do something about it?"
If you answered "yes" to the last question, then a professional like Michael can help you create a strategic plan of action. "You can't see all the parts of you that others see," explains Michael. "That's why you have to have the courage and confidence to let people help you."
Michael and his team at the Human Communications Institute help tens of thousands of people each year using tools and strategies from a technology Michael invented called Human Interaction Technology. He developed this after years of studying various types of psychotherapy, hypnosis, language patterns, transactional analysis and more.
"The outcome is to deliver information to another person in a way that they are most receptive to," Michael explains. "I do 'change' work that helps people overcome challenges quickly. People go to therapy for 20 or 30 years and make slow progress and still feel troubled and that is not ok with me…instead, I use strategies and techniques to help people get over challenges, events and setbacks remarkably, in most cases, in only 10 to 15 minutes. Sometimes people have roadblocks or life challenges, and sometimes they have major trauma or phobias…and I believe they don't have to continue carrying that around. It's a very advanced communication style that we have that gets rapid results."
Michael says he always has had this burning desire, a metaphoric flame inside, but he wasn't sure how to channel it until he went to an event and listened to some tapes on personal development and began working on himself. Then he realized the path he needed to follow was that flame inside of him to share this information.
"My whole life I have loved helping people. In high school I was the guy who would get the phone call from girls who would talk to me about their boyfriend challenges – they probably liked me, but I didn't have the confidence to know it," he says with a chuckle. "I had all the answers. People would come to me, and as they would talk I could easily see patterns, things they were doing and I could break them down – kind of like in the move the 'Matrix' – and I knew that there was something to all of this."
But this is not something you can easily find or decide to study in school.
"It doesn't exist out there in the mainstream," says Michael. "I've created a school to get this type of information out to people, and we've had hundreds of thousands of people take our programs over the years because they are looking for what doesn't exist in the everyday world. But it is our real world."
THE PROGRAM
Human Interaction Technology is a new approach to human communication, relationships, health and interactions. "We've learned how to instantly send a communication by text or email around the world, yet we haven't figured out how to get along," says Michael. "We teach leadership from a level of influencing people by example. It's interesting because I'll have a rabbi come to an event and say 'Michael, you are teaching the Talmud'; I'll have a Christian come and say 'You're teaching Jesus;' I'll have a Buddhist come and say 'You're sounding like Buddha.' I'm teaching what works in the world – not what's written in a book somewhere – powerful, confidence-building communication strategies."
People from all over the world, and every walk of life take the courses, and their success rate is remarkable. Of the people who attend, 70-80% take action necessary to make a dramatic shift in their life, their health and their relationships.
"They may not get rich, or get ripped abs and look sexy, but when they get done with the program they know that they are in control – and that is power," says Michael.
Everyone starts with a five-day program called Call2Action. It's a convenient tele-seminar that allows even the busiest people a way to up their game. "When do we ever take 10 hours in a week – when do we ever do that – to take a look at what we're made of, what we are capable of, what we are doing?" asks Michael. "The greatest gift you can give yourself is to donate some of your time back to yourself."
At the end of the week, as you become more powerful and confident through understanding yourself and taking action, Michael guarantees that "You'll get more done with me in five days than you have in the last five months."
Michael teaches Call2Action every month and holds live quarterly events called The Core Strength Experience that builds on the techniques previously learned during the Call2Action program. There is also an elite certification program delivered in a live, interactive setting for people to learn to do what Michael does and a "mastermind" group that holds get-togethers.
The company's next move is to purchase locations around the world where people who have completed the course can congregate, "Like a country club for personal development and ideas for growth," says Michael. "Imagine a group of people that only want the best for the world – and no nonsense." Their first building – the old home of Congregation Or Tzion in Scottsdale which is being completely redesigned and remodeled – will open Dec. 15. It will be called The Success Institute.
LOOKING AT THINGS DIFFERENTLY
Michael grew up in a typical middle-class neighborhood in Rockaway, NJ, with a nice family structure. Michael's father worked as an aerospace engineer, and his mother was a religious school educator. "They provided my sister and me with what we needed. I never wanted for anything. At the time, I did not identify that was part of my problem," he says.
"When you're broke, or broken and upset, you have a reason to grow. But if you have everything, you have no reason to do anything, just desire with no drive, so I had this conflict going on in me that was huge. I knew I could do more and be more; I just didn't know how and had no one to show me."
So the real challenge was different than most speakers and motivators. "My challenge was that I had a great family and community and, bottom line, when you have most of your bases covered it depletes your innate drive," Michael explains, "I feel this is most people's challenge. Life for most people in the last 20 years has gotten way easier than in the past. And this convenience has destroyed our natural need for adversity which creates growth. As humans we are designed to make progress, evolve and grow."
He realized that he was just acting out the program of those around him. There is a "middle-class program" that people learn and simply accept as their own. The town you live in, the schools you go to, the people around you – they are part of the life you live, and people naturally assume that is the life they will always live. Michael says "Even to this day I realize we model later in life with our own kids whatever we are accustomed to, and we don't even realize we're doing it. And it wasn't even our idea. We are born with this idea of how things are supposed to be instead of how they are. We follow a thread."
Michael acknowledges that change is a scary idea for most people. "Nobody has to change. People simply must choose different things. What we're about is transformation and evolution – we don't want anybody to be different – we want people to be all of themselves," he says. "When you're being you, and you know who you really are, and you're doing what you really want to be doing, you are the most powerful person in your world. That's everybody's dream – to be themselves."
Michael shares an example of this positive redirection from a recent event. "A woman shared that she was molested as a child for years by a neighbor. She spent $25,000 in therapy over the years with little result. Within 10 minutes I reframed the story in her head, and she sees it radically different. Instead of talking about it, we changed the emotional connection."
He compares it to watching television with the sound off. "The show is still there, but you can't hear it, so you don't feel the same way about it." He continues, "I helped this woman have a completely different picture and emotion of what happened. It still happened, but it didn't happen the same way with the same emotional impact. What's more amazing is that it changes the context inside of the person. Like shuffling a deck of cards, it changes throughout her entire life – starting at 5 years old all the way up to 45 years – so many things have changed in her life now in a matter of seconds."
Michael cautions, "You have to learn to be OK with changing your perception of yourself. A lot of times we hold on to who it is that we are, and we try to get what we want by being who we are, but being who we are is usually the act. We wind up as people not being who it is that we really want to be."

JUDAISM AS A WAY OF LIFE
Michael married Debra in 2011, and together the couple has two daughters, Tara, who is 16, and Maya, who is 5. Debra works together with Michael in the business and also teaches her own course for women a few times a year titled, Body, Sex and Business.
While Michael was raised in a Jewish household, his wife was not. Today he thinks of Judaism as more of a way of living than a religion. "What I love about Judaism as a whole is that we are taught to question things where the rest of the world is not," he says. "My parents always said, 'Question, question, question.' That was part of Hebrew school; question things, ask questions, don't just go with it. I think a lot of the world just goes with things and accepts current reality as permanent."
Asking questions, caring about people, family and community, are all relevant to Michael today and were instilled in him as a child. He also refuses to gossip or judge others. "I believe being taught not to judge and to see the best in people. I will not hurt another person or their reputation," says Michael. "I run my business that way. I feel we are responsible for helping each other achieve our best selves. I have been given this gift to serve and heal and help people who are in pain."
Michael also has realized that the way he lives and his actions significantly influence how his daughters navigate their world. He shares the story of when Maya came home from preschool and said someone had been mean to her on the playground. When he asked her more about the incident, she responded, "I don't think he's a mean kid dad, he was just doing something that was a bad idea at the moment." Michael thought, "Where did she get that from, she's 3! I know she got that from us. We teach our kids that God is inside of us and everyone. That we are powerful beings that need to do our part on this earth, not sit and pray about it but we need to do something about it."
Watching him work one might assume that he is very Type A, but he admits that he's not this driven person that needs to achieve everything, but he is driven to rid the world of unnecessary pain and emotional suffering.
"I would like people to feel less pain," he admits. "Not eliminate pain, because we need the pain to grow, but eliminate pain for things that are not occurring right now." He shares that on the other side of that pain is happiness, and that is what the world is missing. He believes that the world has too much pain and suffering for things that have already occurred, not for current circumstances. "When we can get the pain and suffering and limitations out of the way, that's when people can really live life the way they want."
Michael believes that the most important thing is to be really honest about where you are now and who you want to be next year. "It has nothing to do with getting things, it has to do with becoming – I think that's where most people go wrong," says Michael. "If you want to make a difference in your life and the lives of those around you, then you will get what you want. If you're a confident person who is committed and a great communicator – then life works for you."

---
---