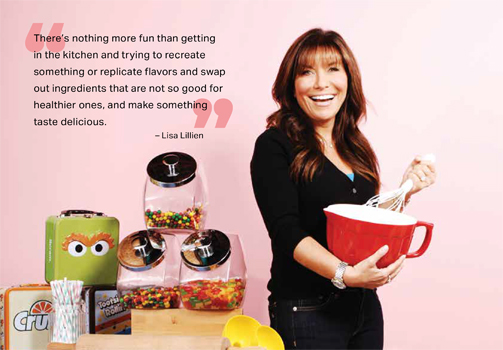 ---
Lisa Lillien (aka Hungry Girl) admits she probably doesn't get enough sleep these days; in reality, it's probably been true for a few years. Lack of sleep makes complete sense when you take into account all she has accomplished since launching the Hungry Girl brand in 2004.
In addition to creating content for daily emails, the Hungry Girl media empire includes a significant presence on social media, best-selling cookbooks, videos, television appearances, a magazine, podcast and weekly contributions to People.com, WeightWatchers.com and food.yahoo.com.
And to think it all began with an email from a girl who loves food.
BUILDING A BRAND
Professionally, Lisa has always been in entertainment. "I was editor-in-chief of some teen magazines right out of college starting when I was 20 or 21 years old," she recalls. "I was always interested in creative writing and content development." She worked for Nickelodeon for five years and then at Warner Bros., where she helped launch their brands and bring new brands online.
While she was at Warner Bros. in the early days of the World Wide Web, Lisa witnessed mistakes being made by big brands in their approach to web content. It was in the early 2000s, before social media, blogs and blogging.
"I was thinking a lot of people are doing it wrong," says Lisa. "They were creating huge portals of information for very small audiences, and I thought, 'What if I just created a small amount of content for a huge audience?' That might be a better approach."
That's where the idea for Hungry Girl was born says Lisa: "I thought, 'Wouldn't it be interesting from a regular person's perspective, to write about food in a way that's fun and humorous and helpful,' and try to help a lot of people."
Having always been a "foodie" (actually she admits to being food obsessed) but with no nutrition or food science degree or background, Lisa set out to create content to email to about 100 people containing tips, food finds, recipes and real-world eating strategies.
Even before the days of email marketing, she realized that getting bombarded daily by emails could be annoying, so she only approached people she knew. She worked with an artist to create a logo and built the back-end program to be able to send out a daily email.
"I just thought, OK, now I'm going to send emails every Monday through Friday and see where it goes, and hopefully, I will be able to build a brand out of it," says Lisa.
That first email was sent in April of 2004, and today there are more than 1 million subscribers who receive Hungry Girl daily to their inbox. Add to that the almost 1.5 million Facebook followers, 149,000 followers on Instagram and 175,000 on Twitter – and Lisa has achieved her goal of building Hungry Girl into a brand.
OPPORTUNITIES ABOUND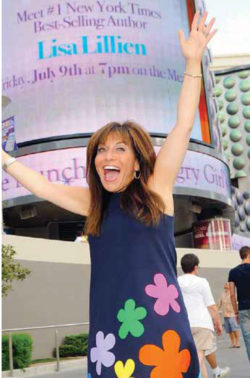 The success of the daily emails provided Lisa numerous opportunities to work with popular brands and to create partnerships. In 2008, she published her first cookbook, Recipes and Survival Strategies for Guilt-Free Eating in the Real World. The book debuted at #2 on the New York Times bestseller list. The next two Hungry Girl books, 200 Under 200 and Hungry Girl 1-2-3 debuted at #1 on the New York Times bestseller list. She has written 12 cookbooks, with number 13 due out in early 2019.
The inspiration for new recipes comes from a variety of places – from food Lisa sees at restaurants while traveling to requests form HG fans. "I also have a great staff," she says. "There's a handful of us who are pretty creative and help with recipe development." All of the recipes are created and tested at "Hungryland," HG's headquarters in Los Angeles.
One of the most popular recipes they've created is 2-Ingredient Chocolate Cake. You mix one box of chocolate cake mix with a 15-ounce can of pumpkin puree and bake. "Try it, it's so good," says Lisa. "You get your fiber, it tastes very chocolaty – you don't taste the pumpkin – and you save a lot of calories from not using oil or butter. It's really a great trick."
Lisa says her favorite recipes are those that conceptually didn't exist before Hungry Girl. One such recipe is her egg mug.
"I started making eggs in a mug probably 11 years ago, and it became a thing," she recalls. "Now everyone makes their breakfast in a mug; they don't use a skillet. Every time I meet people they will say to me, 'Your egg mugs changed my life. I never thought that I had time for breakfast and now I do.' I'm proud of those."
Her newest endeavor is the "Hungry Girl: Chew the Right Thing!" podcast. "I'm super excited about the podcast because I know podcasts are growing and growing in popularity," says Lisa. She shares the microphone with long-time employee Jamie Goldberg and Jamie's husband, Mike Sherry.
Lisa admits that the podcast is very different from the cooking shows she used to have on the Cooking Channel and Food Network. "Cooking on TV is nerve-wracking, I'm not going to lie. When I was doing my show, it was only me talking into the camera. You have to cut things and look up – just act like you're talking to your friend and telling a story. It's fun but challenging.
"A podcast is a little more relaxed. It's 30 minutes where you can chat and joke around, tell stories, and give a lot of really great helpful information too."
She no longer has a cooking show, but she still makes appearances on shows such as "Extra," "The Rachael Ray Show" and "Good Morning America."
"I'm not a person who ever dreamed of being on TV," says Lisa. "Even though I've done so many appearances, television always makes me a tiny bit nervous. There's that element of: is something stuck in my teeth, do I look OK, does this outfit look OK, is my hair all right? I'm less nervous on the podcast where you just hear my voice."
A DIFFERENT APPROACH
Lisa admits that she was "a little chunky growing up." Her mother, Florence, was a "yo-yo" dieter who was always on a diet, wanting to lose 10 or 15 pounds. In her adult life, Lisa probably topped out at 20 pounds heavier than she is today, but she always had an "old-fashioned" approach to dieting.
She remembers thinking, "If you're on a diet, you're eating nothing that's bad for you. If you're off a diet, you can eat everything all the time." It was very black and white. "It was when I realized that that's no way to live your life and not the way to succeed at achieving a healthy weight – that's when everything changed for me."
Like many other children who grow up in a traditional Jewish home, food was a central part of her childhood. She claims that she can eat a box of matzah in one sitting and that it's one of her "trigger" foods, so she doesn't eat it very often.
She has revamped some of the traditional Jewish recipes, like her butternut squash latkes and kugel using noodle replacements. Her biggest challenge came when her mom shared her stuffed cabbage recipe, one of Lisa's favorites.
"I had an episode of my TV show called 'Mom's Favorites,' and I was recreating all the dishes that moms would make. I had my mom give me her recipe for the stuffed cabbage – I almost fell off the chair when she told me what was in it!" says Lisa.
She never knew that the "best thing on earth" had about six cans of cranberry sauce in it! She swapped those out for a combination of low-fat marinara sauce, low-sugar grape jelly and a lot less cranberry sauce in Floosh's Stuffed Cabbage recipe. "I swapped that one pretty hard. I think I did a great job on that one," says Lisa.
SWAPPING
Lisa has created her HG empire on the basis of food "swaps."
"There's nothing more fun than getting in the kitchen and trying to recreate something or replicate flavors and swap out ingredients that are not so good for healthier ones, and make something taste delicious."
Lisa says these days the most popular swapping ingredients are cauliflower, zucchini and spaghetti squash in place of starchy carbohydrates.
She claims she is a "mad scientist" in the kitchen, but was never really into cooking. "My mother-in-law used to joke around and say, 'I love Lisa, she's great, but she can't cook.' "
Lisa has been married to television producer Dan Schneider since 2002. They live in LA with their dog, Lolly (who has more than 185,000 followers on her own Facebook page), a cat and a bunny.
Her goal is to find ways to create the foods and flavors that she wants to eat, only with way fewer calories. Nutritional information can be found on government databases or on the packaging. "It's just about doing the math and knowing exactly how much you're using, and putting it all together," says Lisa.
She also includes the Weight Watcher's point values so people using that program can incorporate her recipes.
Lisa acknowledges that over the years there have been a few little failures. "I don't like to fail, so if something should be a stew but it's too thin, I'll just call it a soup," she jokes. "If it tastes good, you just find a way to make it work."
She would put a lot of HG recipes up against the real things. She thinks many of them taste better and have half the calories. There are a few exceptions though.
"There are certain foods that no matter how hard you try, they just don't taste quite as good when you lower the calories," says Lisa. "For example, crème brûlée. I've got a couple of crème brûlée recipes, but they're just not as good as the real thing."
MAKING A DIFFERENCE
Some funny things happen when people find out Lisa is Hungry Girl. They will ask her how to lose 10 pounds in two weeks, or they will ask her if she ever eats anything that's not healthy. The oddest one is when she goes out to dinner with people she doesn't know very well, and they will wait to order until they see what she orders, and then order the same thing.
"I do splurge," she admits. "I live by the 80/20 rule. If you feel the need to cut things out 100% of the time, you haven't really mastered it. If you say, 'I'm never ever going to have a bite of cake again,' have you really mastered the whole eating well thing?"
She advises thinking of eating as having a calorie "budget" just like you have a financial budget. You can't buy everything you want, and you can't eat everything you want.
"You have to live your life, and if it's someone's birthday, I'll have a little cake, or if I'm going somewhere where I know I love the pretzel bread, I will have some pretzel bread," says Lisa. "I'm not perfect all the time, and I don't pretend to be."
Lisa's says the best part of being Hungry Girl is meeting her fans and hearing success stories during her book tours.
"I really love what I do, and the best part is helping people and meeting people face-to-face. Everyone has a story. I love knowing that what I do makes a difference and that it helps people."
She pauses a moment and then continues, "Hungryland is a great place. It's really fun, bright and colorful, and we're always just working to put out the best content and the best recipes – but it's like we are in a bubble. But when we get out there, and we meet people who HG has really affected, that makes it all worthwhile. All the hard work pays off."
It looks like Lisa isn't going to catch up on her sleep any time soon.
Hungry Girl's 7 Ways to Avoid Holiday Overeating
Don't show up hungry.
It might seem like a good idea – the less you eat before the big meal, the more calories you'll have left for the feast – but when you show up super hungry, you set yourself up for a diet disaster. Chances are, you'll eat everything in sight! So have a light but satisfying breakfast and lunch, like an egg-white omelet and a grilled chicken salad. Meals with fiber and protein will keep your hunger in check. An hour or so before dinner, have a smart snack like an apple or a stick of string cheese. And don't forget to stay hydrated!
Survey all your options before filling your plate.
Buffet-style dinners are practically an invitation to overeat! Take control by first scanning the spread, and then planning your meal. It's OK to indulge a little, but first see what's worth splurging on. Then fill your plate with tons of veggies. Next, add lean proteins, like white-meat turkey. Leave only a small amount of room for splurges, like carby sides and sweet treats.
Keep cocktails to a minimum.
This time of year is all about celebration, and alcohol is often involved. It's A-OK to partake in the champagne toast or have a drink with dinner, but be aware of how alcohol affects you. Booze inhibits your decision-making skills. So while you normally can say no to those cookies, after a few martinis, you may find yourself chewing through half a dozen. Don't say I didn't warn you!
Wait at least 20 minutes before getting seconds.
It takes some time for your stomach to let your brain know that it's full. If you refill your plate the minute it's empty, you may not be aware that you've had enough. But an hour later, you might regret that decision! Make it a point to engage in a conversation for 20 minutes or so after your first helping. This way, you can make an informed decision about your hunger level. Ask your chattiest relative to catch you up on their life … You may forget all about that food!
Offer to help the host.
Take the focus off eating. Help with setup and cleanup, and the host won't be the only one to thank you … Your scale will thank you too! Plus, after a heavy meal, it's good to move around a bit. So don't just plop down on the couch; clear some dishes! And if you're guilty of grazing (and who's not?), chew some sugar-free gum or pop a mint in your mouth to put a stop to mindless munching.
Contribute to the spread.
Hmmm … I wonder where you could find some guilt-free and delicious recipes … (wink, wink). Bring something healthy to the holiday meal, and you're guaranteed to have at least one good-for-you option available.
Socialize and enjoy yourself!
Again, don't let the food come first. Make your family and friends your priority. And if you have a little too much to eat, try not to beat yourself up. Just get right back on track the next day. Don't let a day of overeating turn into an entire season of overdoing it. So many people make this mistake … Don't be one of 'em.

---
---