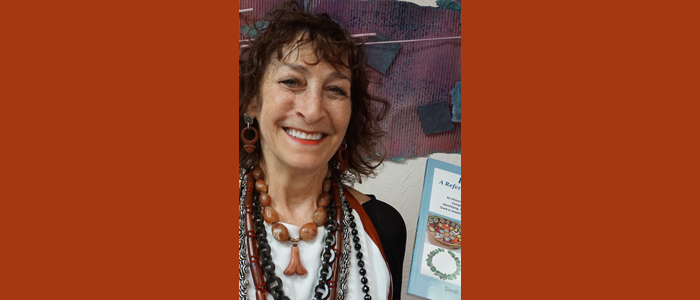 ---
A jewelry appraiser by day and gemstone teacher by night, Sindi Schloss sizzles with enthusiasm at the mere mention of beads, jewelry, or gemstones. A Colorado native, and self-described Type-A personality, Sindi is the owner of International Gemological Services in Scottsdale and a graduate gemologist with GIA (Gemological Institute of America). A tour-de-force in the jewelry world, Sindi has 35 years of experience in valuation science, gemology and teaching under her belt. She didn't become a tour-de-force overnight; the stage was set early in college where she majored in molecular/cellular biology and post-graduate geology classes.
A jewelry historian, Sindi thrives on sharing her extensive knowledge of jewelry, from caveman times to present. Her three-hour evening classes enlighten attendees on the magic and mystery of gems; from colored stones and gem identification, to diamonds and diamond grading, and the history of human adornment. Attendees include a cross-section of the community: jewelry store owners and employees, collectors, pawn shop owners, collectors, antique dealers, estate dealers, coin dealers and jewelry designers.
Sindi's classes provide practical GIA information, as students learn the skills necessary to apply to the jewelry world. "Everyone is amazed at the scope of what they learn, whether it's migration of early cultures, to technological advancements," she says. "I teach about geography, and how jewelry can help identify people's clan status, marital status and more. The study of beads and jewelry is like a time machine."
During the workday, Sindi is typically at her microscope, providing clients with appraisals on their fine jewelry. "The trade would cease to exist without her expertise," says Jim Vacek of 49er Minerals. "She is the go-to person whenever there is an impossible task or rare gem to be identified. I keep wanting for Sindi to make a mistake in identification, but it's never going to happen."
On any given day Sindi is swathed in show-stopping jewelry with tantalizing textures, shapes and sizes.  Typical choices might include multi-strands of vulcanite (chemically altered rubber from the Victorian period), amber from a tribe in Burma, pre-Columbian carnelian pendants, jade, or shells used in North African necklace assemblages. "I wear a lot of weight," she says with a twinkle in her eye. Even her rings are extraordinary; one particular dazzler was created with emeralds and flat diamond slices with a sacred geometry design (a flower of life created from intersecting circles) on the inside.  "I have a penchant for unusual things," says Sindi, "and I just keep evolving."
Sindi developed a deeper appreciation of jewelry when she accompanied her gemstone-vendor husband (who along with his brother are partners in Four Peaks Mining Company at OdySea in the Desert) on buying trips around the world. "I encountered peoples of many different cultures and tribes and was fascinated by their jewelry and adornments they wore," she says.
While travel and education were certainly large contributors to Sindi's appreciation of global jewelry, her 15-year volunteering stint at The Bead Museum in Glendale (now closed), taught her invaluable information about the history of beads. The museum was dedicated to global adornment rooted in prehistory, and was a haven for beads and embellishments of multiple cultures, past and present. "The bead world has fascinated me for a long time, but it was working at the museum that really broadened my appreciation and perception of jewelry," she says. "I was heavily involved with exhibition and acquisition committees and on their board for fifteen years."
Always on a mission to spread her "jewelry gospel" Sindi's latest accomplishment is her new book Beads: A Reference and Price Guide – An Historical Jewelry Review and Comprehensive Guide for Identifying, Dating and Valuing Beads Used in Jewelry and on Cultural Artifacts with Prices. Saturated with three hundred and fifty vibrant pictures, it is a compelling read for anyone in the trade as well as treasure hunters. Beads made from millefiori cane, paper beads, molded glass, Tibetan and Venetian lampwork beads and carved ivory are just a small sample of the beads shown in this visually enticing book. References about factors affecting bead value, tribal art, symbolism in human adornment are also included as are charts to identify, date and evaluate beads. You can even learn fun facts such as why ostrich eggshell beads have been excavated on the European continent.
In addition to writing, teaching and appraising, Sindi lectures all around the United States. "I speak to other GIA groups, jewelry appraisal associations, rock and mineral clubs, collectible and lapidary clubs and Questers, a group that promotes education in the fields of preservation and restoration of artifacts," she says. "I also speak to bead societies and have written a lot of articles for newsletters as well. The most fun part of my job is people though. I love meeting people and sharing stories and teaching. My mom calls me an edutainer because I am always teaching; it's my real passion."
For more information on International Gemological Services, call 480-947-5866 or visit internationalgemservices.com.

---
---