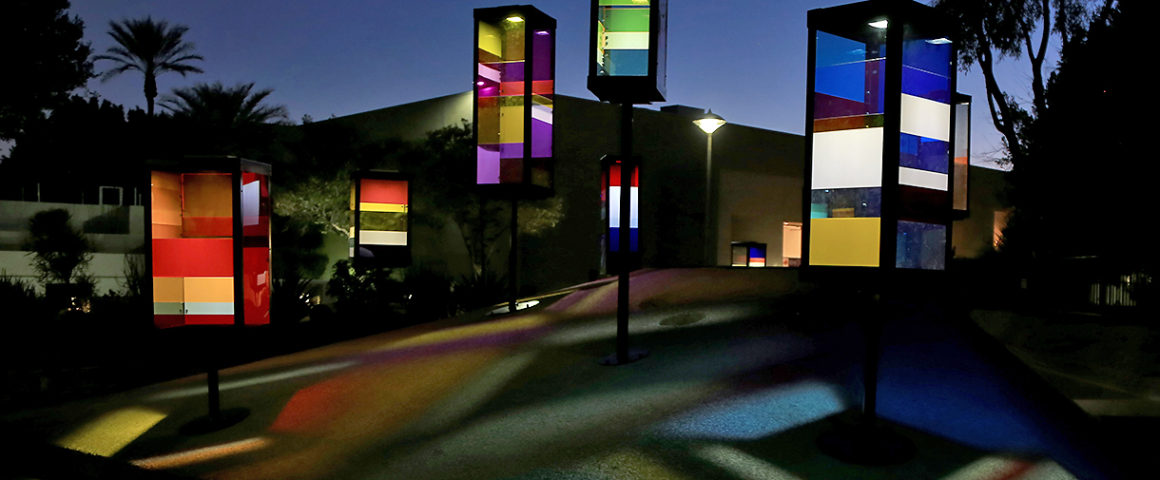 ---
Pictured above: "Sun Lanterns" by Tempe-based artist Eli Richard is an installation at Scottsdale Civic Center Mall. Photo by Brian Passey for Scottsdale Public Art.
Not only is Canal Convergence moving to November, expanding to 10 consecutive days and dramatically increasing the amount of artwork, programming and performances, it's also extending its atmosphere beyond the Scottsdale Waterfront to the Old Town Scottsdale businesses south of the Arizona Canal through a new initiative called Local Light.
Beginning Oct. 25, this initiative from Scottsdale Public Art will place additional light-based installations along Fifth Avenue, Stetson Drive and Marshall Way in Scottsdale's Gallery District to create a path of art and light between the businesses and the canal. All of the installations, which will be created by local artists, will remain on display through Dec. 31.
Local Light will begin with an opening reception from 6 to 7 pm Thursday, Oct. 25, at Blue Clover Distillery, 7042 E. Indian School Road, Scottsdale. This event will also celebrate "One-Eyed Jack," a 26-foot-tall rabbit sculpture by John Randall Nelson, which was installed in September in front of Blue Clover Distillery on the corner of Marshall Way and Indian School Road. This joint Local Light Opening Reception and One-Eyed Jack Celebration will include refreshments and a poetry reading by Alberto Ríos, a regents' professor at ASU who became Arizona's first poet laureate in 2013.
Additionally, Scottsdale Arts staff will lead a tour of the Local Light installations. Other tours and events associated with the Local Light initiative will be announced during the reception.
For this inaugural year, Scottsdale Public Art has commissioned local artists to enhance eight different sites in downtown Scottsdale with light-based art installations. Those locations include LDV Winery (in its new location near the Waterfront), On The Edge Gallery, Vintage by Misty, The Herb Box, XO Confections, and Carlson Creek Vineyard Wine Tasting Room, in addition to Scottsdale Public Art's storefront space on 5th Avenue.
Artists participating in Local Light include Mike Butzine, Casey Farina, Lynn Gustafson, Lisa Von Hoffner, Michelle Meyer, Mike Miller, Craig Randich, Lily Reeves, Jenny Willigrod, Danielle Wood and Eli Richard, whose Sun Lanterns will be reinstalled following their removal from Scottsdale Civic Center Mall.
The "Sun Lanterns" were installed on the pedestrian overpass above Drinkwater Boulevard near Robert Indiana's "LOVE" sculpture in February, but the discovery of structural problems with the overpass has tasked Scottsdale Public Art with finding new locations for the artworks there. The "Sun Lanterns" have already been removed and are in storage until they are reinstalled as part of Local Light. "LOVE" will be moved to a new location at Scottsdale Civic Center Mall in the near future.
Jennifer Gill, public art manager for Canal Convergence and Local Light, said the initiative is designed to support businesses in Old Town Scottsdale by using the public art installations to lure more potential customers downtown. Some of the installations will be outside the businesses while others will be inside. It also provides local artists more opportunities to be associated with Canal Convergence, which draws from regional, national and international artists.
In addition to Canal Convergence, Local Light will also play a role in Scottsdale Contemporary Month from Oct. 21 to Nov. 21 and Scottsdazzle from Nov. 24 to Jan. 1.
Check ScottsdalePublicArt.org/temporary-art/local-light throughout the initiative for updates on Local Light-related events and for information about the artists and artwork.

---
---