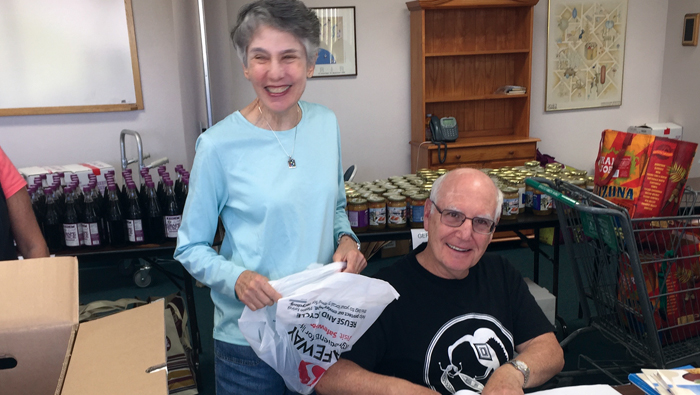 ---
For more than 40 years, Jewish Family & Children Services of Southern Arizona has provided Passover foods to Jewish residents who otherwise would not be able to afford to purchase the traditional foods that are part of the holiday celebration.
Matza & More is a fine example of Tucson's Jewish spirit of warm outreach to individuals and families of all ages. Matza & More volunteers, in coordination with JFCS staff, reach out to Tucson's Jewish congregations and organizations to help provide financial support toward the purchase of food and other items included in the baskets that reach about 200 families. Recipients include older adults, Holocaust survivors and families who receive assistance through the JFCS and Jewish Federation of Southern Arizona's Mitzvah Magic program. Baskets are hand-delivered by volunteer drivers who sign statements of understanding, committing to protect the anonymity and dignity of recipients. Recipients are not necessarily limited to the greater Tucson area, as some recipients can come and pick up their own baskets from distant locations.
Passover baskets consist of matzah, horseradish, grape juice, gefilte fish, macaroons, matzah ball soup mix, walnuts and apples to prepare charoset, onions and potatoes. All food items are kosher for Passover and Shamrock Foods donates the fresh produce. The baskets also include handmade Passover greeting cards from the students of Tucson Hebrew Academy and a "30minute-Seder" Haggadah from author and publisher Rob Kopman.
"Passover is a retelling of the story of our freedom from slavery, and the recipients [of the baskets] should be free to celebrate the holiday," explains Nancy Lefkowitz. Over the past five years, she has volunteered with Matza & More, packing and delivering food items. A retired speech-language pathologist, she and her husband, Joel Alpert, are winter residents from the Boston area.
"The program's greatest need for 2016 is for financial support," explains Lefkowitz. "We already have around 20 people committed to driving and will probably need a few more people to help out. Our volunteers get such incredibly meaningful experiences doing hands-on tzedakah."
Some of the most enthusiastic volunteers come from SaddleBrooke, an active adult retirement community, and the University of Arizona's Jewish fraternity and sorority students. "We love it when young people participate," Lefkowitz continues, "because this becomes such a significant experience for them. Several volunteers have described their experiences as particularly powerful due to the personal interactions they have with recipients, who readily express their gratitude for the food delivered. It's amazing what doing a mitzvah means to everyone."
Traditionally, the Matza & More program has asked for specific food donations from participating congregations and groups. In 2016, the program committee decided to establish a strategic partnership with the Safeway grocery chain so that all the needed food could be ordered in advance and delivered directly to the JFCS office in time for packing. In lieu of specific food items, the program committee is seeking financial contributions. "It's a new thing for us," Lefkowitz admits. "Our ultimate goal is not to burden congregations and to forge strategic partnerships which will ensure the success and longevity of this vital program." In addition, each family will receive a JFCS-donated grocery gift card to supplement the food in the basket, an extension of a JFCS goal of enabling families to make personal food choices for their Seder.
Tucson Hebrew Academy students will continue their longstanding tradition of donating macaroons. Rabbi Billy Lewkowicz, director of Judaic studies, comments, "We do it because we like to teach the children the mitzvah of ma'ot chitim [literally translated to 'wheat fund'], or the mitzvah of assisting the poor to celebrate Passover, originally by supplying the poor with matzah." He continues, "On a daily basis at THA, we encourage the importance of giving. To this end, everyone brings two, four, eight containers of macaroons to give to the less fortunate. This is a way for us to be directly involved."
Last year, the program went green by distributing the baskets in reusable bags. This year's bags will bear the JFCS 75th anniversary logo. In another twist, Lefkowitz's ongoing volunteer work with the Community Food Bank of Southern Arizona facilitated the donation of a $500 community grant to the Matza & More program.  The Community Food Bank is donating funds to select Tucson nonprofit agencies in lieu of a 40th anniversary party.
Lefkowitz is motivated to again chair the committee as she believes no one should be deprived of the pleasure of celebrating Pesach because of financial circumstances. "It's about the people of Jewish Tucson who willingly volunteer their time and funds to support the wider Jewish community who may not be as fortunate. I've been blessed, and giving back is clearly the right thing to do."
The program's food packing date is Friday, April 15, with deliveries on Sunday, April 17. Committee members are Barbara Brumer, Carole Burtch, Lari Cote, Hedy Feuer and Nancy Lefkowitz, supported by JFCS staff Deborah Crowder, Pattie Martin and Nancy Smith. To get involved or learn more about the program, visit jfcstucson.org/donate/matza-more or call 520-795-3000, ext. 2204.
Sarah Chen is a freelance writer and associate director of the Jewish Federation of Southern Arizona's Northwest Division. She lives in Oro Valley with her husband and two preschoolers.

---
---