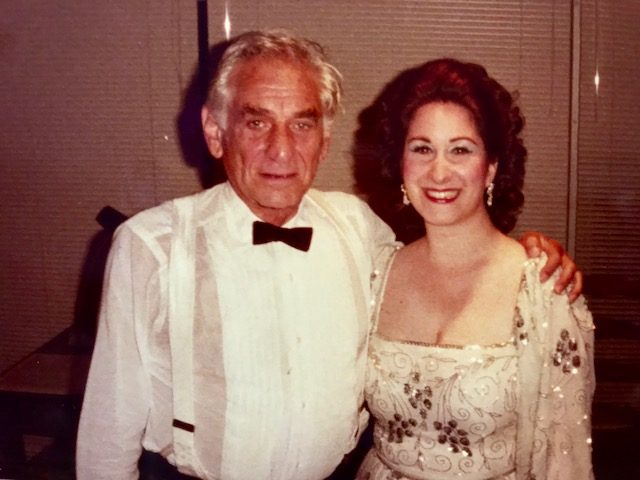 ---
Pictured above: Leonard Bernstein and Gail Dubinbaum.
To honor what would have been Leonard Bernstein's 100th birthday, Temple Solel is presenting a special concert on the anniversary of Bernstein's death, Oct. 14.
"It's an event that Solel is putting on in conjunction with The Phoenix Opera," says Todd Herzog, cantorial soloist at Temple Solel. "John Massaro brought the idea to us and we decided to move forward with it."
John Massaro and his wife, Gail Dubinbaum are the founders of The Phoenix Opera. John has also been the music director and played piano for High Holiday services at Temple Solel for many years, and Gail has performed as a substitute cantor from time to time.
During this special concert, John will be the pianist, Gail will be the host and narrator, and Todd will perform along with Rabbi Emily Langowitz and several members of The Phoenix Opera.
The evening will be "a mixture of his more popular music, like 'West Side Story,' along with a couple of more classical pieces," says Todd. There are 15 pieces on the schedule.
"We are very thrilled to be doing this because we've been affiliated with Temple Solel for many years," says Gail. "A lot is going into this program that's different. I like being the walking, talking program guide and giving people insight into what they are hearing." Gail will share fascinating information on Bernstein, his compositions, the backstory on the compositions and his affiliations with Gershwin and Copland and how they influenced his music.
Gail will also share a few personal anecdotes from the many times she had the privilege of performing with "Maestro Bernstein," as she calls him.
The first time Gail met Leonard Bernstein, she was living in New York, singing with the Metropolitan Opera, when she was hired by the LA Philharmonic to be the mezzo-soprano soloist for Bernstein's Jeremiah Symphony.
Since Bernstein did not know her, and he was not in the habit of conducting people that he had not personally put his stamp of approval on, she was contacted by his manager, Harry Kraut.
"Mr. Kraut said that Mr. Bernstein wanted to hear me live to audition," remembers Gail. So she was sent the musical score, and a few days later she and her accompanist (her husband, John) arrived at Bernstein's apartment.
"John and I went into his music room with all of the pictures, from everyone in the world, all over the piano and all of his scores…it was intimidating, like you have no idea," says Gail.
Bernstein walked into the room, smoking and wearing a short robe, and sat about six feet from where Gail stood.
"I start singing Jeremiah for him, and at one point he jumped up and said, 'No that's wrong!' " says Gail. Harry had sent them the wrong orchestral score!
"I continued singing and about half-way through Bernstein put up his hands and said, 'Stop, stop!' and I thought, 'I'm going to die right now,' " says Gail. "He said, 'No, I can't say this. No, I shouldn't say this. OK, I'll say this. That is the most beautiful I've ever heard this sung.' "
That is how Gail got the chance to sing the Jeremiah Symphony with Leonard Bernstein for the first time at the Hollywood Bowl. She went on to perform with him in Boston and Pittsburg, the latter location was to celebrate the 40th anniversary of the creation of Jeremiah.
"I sang with Bernstein many, many times and it was always an honor – and thrilling," says Gail.
Yet there was one opportunity to perform with Bernstein that Gail did not get to do, and has regretted ever since.
She was invited by Bernstein to sing at a private concert for a rededication of a room in the Vatican. There would be a private concert for the Pope and then an open-air concert that would be broadcast by the Italian radio.
"I was in a production with the Metropolitan Opera at the time, and they would not let me out of my contract," says Gail. "Bernstein was going to fly me overnight on the Concord and get me into Rome the next day to sing at this concert. That didn't happen, which was heartbreaking for many reasons."
When she told Bernstein that she couldn't go, he said that they would just have to get the "second best" singer to perform. That turned out to be Gail's idol – world-renowned mezzo-soprano Christa Ludwig.
One of Gail's prized possessions is a limerick that Bernstein wrote on the back of her music one day. She had asked for his autograph, and instead, he wrote this:
There once was a man from Yale,
who was burning to sing like Gail.
He said my desi'ah'
to sing Jeremiah,
is such that
I rue being male.
Love always!
Lenny
"That I keep in my music room," she says. "It's one of the best things I have in my collection of mementos from my career."
Love Always! Lenny
When: 7 pm, Sunday, Oct. 14
Where: Temple Solel, 6805 E. McDonald Drive, Paradise Valley
Tickets: $10 students, $25 general admission ($18 advance purchase by Oct. 1), $50 VIP includes a meet-the-artist champagne reception following the concert
Information: 480-991-7414 or templesolel.org/events

---
---