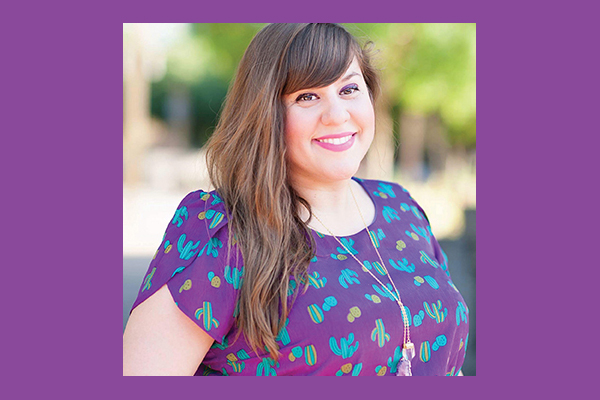 ---
There will be three seats up for election this spring on the seven-seat Tempe City Council. Sarah Kader hopes that on March 13, 2018, she will be elected to fill one of those positions. A native of Tempe, Sarah has been working the past seven years as an attorney at the Arizona Center for Disability Law helping families with disabilities and the issues that impact them. "I like my work, and I feel like I am doing important work every day, helping people who really need it," says Sarah.
But she admits that this past year she felt like she needed to be doing more. "Part of it has to do with the election – our nation feels very divided and confused, and there are a lot of unhappy feelings," comments Sarah. "When Ithought, 'How can I help? What can I do to contribute positively to my community and my country,' looking locally seemed like a nice option."
Then people started to encourage her to think about city council. "Running for office hadn't crossed my mind – I was just looking for something else that I could do given my experience," she admits. With her job, she had a lot of experience doing legislative work in the state capital. "It seemed like something I could be good at – working on policy issues – and something I would enjoy."
It also felt like a tangible way to make a positive impact in her local community. Sarah talked with her husband, Ross, and her parents (who live next door) and they were all very supportive and encouraged her to put her hat in the ring. "It takes a village when running for office," she admits. "I knew I was going to need a lot of help with things and they have all been very supportive." The couple also has a daughter, Aviva, who was born in April of 2016.
"The more that I delved into what is going on in Tempe, the more I realized that the city does need a champion for working families," explains Sarah. "I felt compelled. It's crazy running for office with an 18-month-old, but I hope she'll be proud one day, whatever happens, that I chose to try and make this positive change."
Her faith also was instrumental in her decision to run. She grew up in a family involved in the Jewish community, and she became president of Hillel when she attended the University of Arizona. She was also on the board of the Jewish Law Students Association while in law school at Syracuse University College of Law. "I always felt that my home away from home was my Judaism," says Sarah.
While in law school, she spent a summer in Washington, D.C., interning at the Anti-Defamation League. "That was incredible, and I thought maybe I wanted to live in D.C. and do that kind of work, but then I missed my family, and I missed Tempe, so I moved back to Tempe after law school and began looking for public service work here," Sarah explains.
When she returned to Tempe, she held positions on the boards of Young Jewish Phoenix, Council for Jews with Special Needs (now Gesher Disability Resources) and Generations After – Phoenix Holocaust Survivor's Association. "Both of my dad's parents were Holocaust survivors," says Sarah. "Which is a big part of my story and why I've chosen to focus my life on giving back and public service and repairing the world."
Sarah also volunteered for the ADL in Arizona and helped start their Young Leadership Division and was a co-founder of Arizona Jews for Justice, a grassroots organization that collaborates to foster social justice within our state. "I try to motivate Jews to get involved with the community," admits Sarah. "Our tradition compels us to look at the stranger because we were once that stranger, and how can we help people in our lives. It's our mission and a big part of what I do and why I do it."
She emphasizes the need for Jews to run for office. "I think having Jews elected to office in the state of Arizona is important," states Sarah. "We need to be at the table. We need to be part of the conversation and the discussion about policy issues and what matters to people in our cities, and our counties and our state. I think the Jewish community should become invested in Jews running for office at
whatever level it is. I'm trying to communicate that to my Jewish community – this race is important to them."
She is also trying to educate people on all the critical matters impacted by the city council in people's daily lives. Decisions made by the city council affects roads, traffic, parks, first responders, police, zoning, local business, education issues, housing and homelessness – things that matter to everyday citizens and residents who live and work in Tempe. And since Tempe borders other cities what happens there affects Scottsdale, Phoenix, Mesa and Chandler.
One of the central themes of her campaign is getting the word out that more than 20% of Tempe's population is living in poverty, including 10,000 children. "People think of Tempe as ASU and downtown, and they don't realize that there are a lot of people struggling in Tempe to make ends meet," Sarah explains. "Coming from my upbringing and my commitment to repairing the world – that's what led me to this campaign."
Every Sunday Sarah can be found knocking on doors with volunteers, some who don't even live in Tempe but believe in what she stands for and what she is doing.
"When I knock on doors and talk to voters, I talk about being a unifying voice for Tempe. I am committed to getting the work done," she says. "I want there to be legitimacy to my race and candidacy and hopefully (if I'm elected) my position – to be respected and respectful of it," Sarah emphasizes. "We need elected officials who take their position seriously and respect each other and respect what we are trying to accomplish. We are all very connected here. There is way more we can do."
For more information on Sarah's campaign, visit kaderfortempe.com.

---
---